Injections are a major part of cosmetic medicine. Depending on the treatment area, they can be used to smooth wrinkles, renew skin complexion or treat certain transpiration points. The Clinique du Lac proposes a number of different types of injection to suit your needs:
Make an appointment with our qualified cosmetic experts where you will be able to ask all of your questions; express your needs and find the best solution for your requirements. They can tell you everything you need to know about the conditions and contraindications of the various techniques on offer and will tell you which are suitable for your situation.
Botulinum toxin is treatment used to prevent and treat facial ageing (upper part of the face). It relaxes the muscles behind the formation of expressive wrinkles but does not fill them. It will not make all your wrinkles disappear but will lighten your facial expression by opening up the orbicular muscle and raising the eyebrows.
Botulinum toxin is commercialised under the names Vistabel® or Botox®
Injections are made by a surgeon and are rapid, needing no anaesthetic. With botulinum toxin results can be achieved that compare well to frontal face-lift, by replacing the surgical procedure to section a muscle by a chemical denervation procedure.
Botulinum toxin is also used to treat transpiration.
The injection of Hyaluronic acid is a simple procedure for the treatment of wrinkles; the effects are immediately visible leaving no scars. The most well-known uses are on dark circles around the eyes, wrinkles, upper lip, the nasolabial fold and the bitterness folds, corners of the mouth, cheek and cheekbone volumes.
Hyaluronic acid is the reference for totally resorbable products used to fill, re-flesh or add volume to areas which need it. Using this technique wrinkles are filled by injecting the substance directly into the dermis, no anaesthetic is required or with a local anaesthetic for lip re-modelling.
In the long-term interventions should be repeated depending on the desired results, considering that the effects last for between 6 and 18 months.
The advantages of hyaluronic acid:
bio-compatibility: hyaluronic acid is an element already present in the body,
it is of non-animal origin: being obtained by bio-synthesis
no preparatory tests are required
it is a bio-degradable product
it can be injected by a surgeon or cosmetic medicine specialist
Contrary to botulinum toxin, it does not have an effect on the muscles, and its action is limited to volume which it provides through hydration.

Radiesse® is a wrinkle filler product which reduces deep wrinkles, provides a lifting effect and can renew facial contours.
Radiesse® can be used to treat various areas of the face (nose, cheeks, cheekbones, nasolabial folds, bitterness folds, facial outline, chin, etc.). The results achieved are immediate.
Radiesse® is a combination of an aqueous gel and calcium hydroxyapatite micro-spheres, it stimulates the production of collagen and elastin, two proteins that are essential to healthy-looking skin. The treatment is naturally eliminated by the organism since it is both resorbable and biodegradable.
As with any other filler product treatment it may need a few re-touches over time to achieve the desired effect.
Radiesse® injections can include lidocaine (local anaesthetic) if required. To make the treatment more comfortable for the patient, the Clinique du Lac surgeons generally include lidocaine in these injections.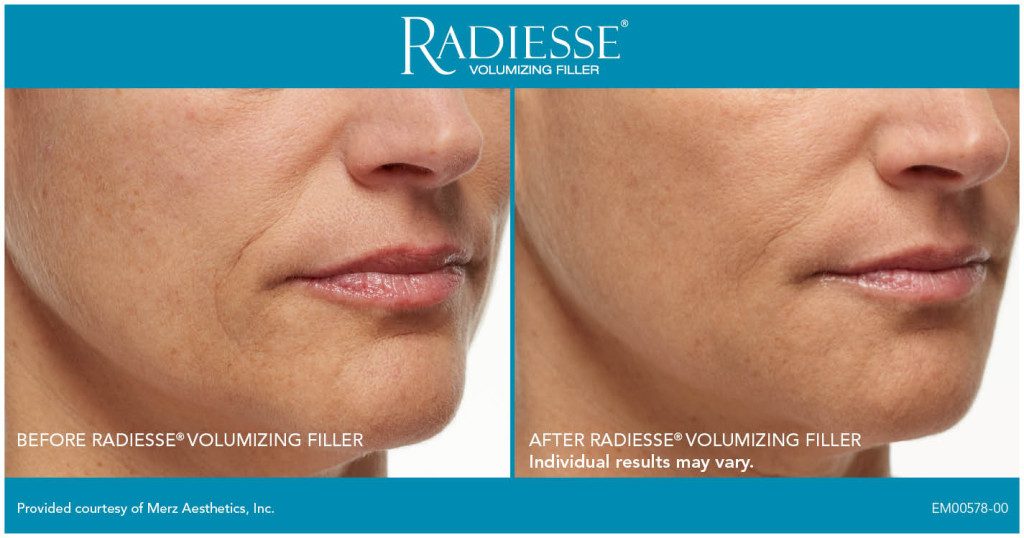 2nd generation PRP is a genuine medical revolution, it uses the natural attributes of blood to generate cellular rejuvenation. A small quantity of the patient's own blood is collected to do this. The collected blood is centrifuged to isolate a leucocyte and platelet concentrate and plasma. These elements are then injected into the tissue to be stimulated.
The advantages of 2nd generation PRP:
The treatment is natural and presents no risk of rejection since the patient's own blood is used,
The first beneficial effects can be seen very rapidly.
The structure of the skin will continue to improve over the following month. Depending on the medical conditions and the desired results, 2 to 6 sessions will be organised at 2 to 6 week intervals.
No reclusive convalescence will be necessary.
2nd generation PRP can be used to treat (warning, certain of the areas listed below must be treated with 2nd generation PRP in combination with other treatments – fractional CO2 laser, Dermapen – Contact our experts to find our more):
Face, neck/cleavage, hands
Dark rings around the eyes
Acne scars
Scalp > see specific section
Stretch-marks
Sexuality > see specific section

(warning, by clicking on this link you will be redirected to the web-site of our establishment in Aix-les-Bains, France, which is specialised in plastic surgery)